Home Page
Welcome to the home of Home Counties American Cocker Club. So pleased that you have visited us today.
The club was founded in 1980 and continues today going from strength to strength. Please browse the site at your leisure and be sure to come back sometime!
To see the consent letter dated 24th June 1980 for the registration of the club click on the letter icon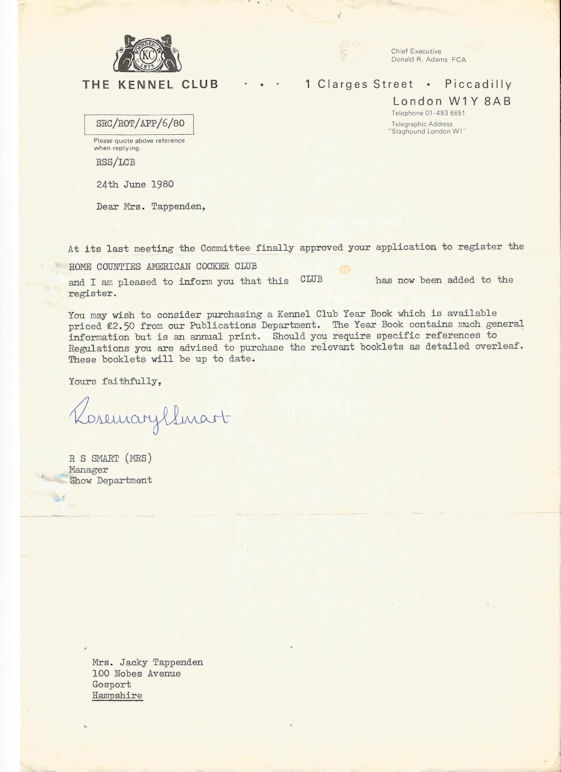 The idea of this site is to inform the club members and the general public to the activities that the club undertake. If you have any suggestions or comments please let us know.
If you wish to become a member, please contact the Secretary or complete the application form. New members will receive a free Club car sticker.
Updates to the website:-
19/04/2014
Committe - Committe
News - details of the new Judging list
Judging - new Judging list for 04/2014
Puppies - details of puppies that are now available
11/04/2014
Forthcoming Events - Forthcoming Events
02/03/2014
Show Results - Champ show results
06/02/2014
Show Diary - confirmed dates for 2015/6
24/12/2013
Judging - new Judging list for 2014
Code of Ethics
Each member of the club are obliged to adhere to the Code of Ethics which can be seen here.
Health
There is a new page dedicated to the health of the American Cockers. At present there is an article writen by Bill Bunce dealing with Eye Conditions. If you have articles please submit them and the section will be updated.
Grooming
There is a new page dedicated to grooming which has been written by Amy English. Please read especially if you are a beginner!
Navigation: Home